But as I do every year, I've started 2011 optimistically. It'll be a good one. Things won't always go perfectly, but they'll generally be fine.
July 6, 2010

by

Linda O. Johnston

in category

Pets, Romance & Lots of Suspense by Linda O. Johnston, Writing: It's a Business

tagged as

Harlequin, Linda O. Johnston, Nocturne, Nocturne Bites, Pet-Sitter Mysteries
I've been a member of OCC for quite a few years. During that time, I've given a lot of talks and classes, and been on many panels, but the only one I've been on for OCC was at the Autumn Affaire conference about ten years ago.
I used to be very nervous speaking in front of any group, but I've done it often enough now that I'm generally fine. However, I think one of the reasons I haven't made a point to volunteer to speak at OCC is that the idea makes me nervous!
Why? I'm not sure. I always want to make a good impression, no matter who the group is. But maybe I figure it'll stick with me more if I mess up in front of you!
So why am I mentioning this now? Well, in August, I'm going to be talking about what I learn at RWA National that I can share with the group in the afternoon session. And in the morning session in September, I'll be sharing what I know about combining romance and suspense in a novel. Two months in a row? I'm a glutton for punishment!
Come and listen to me. Please clap politely and keep your snickers to yourself. And–well, forget that. Both will be learning experiences for me, as well as for you, I hope. Please join me at both of them!
     FELINE FATALE, Linda's ninth Kendra Ballantyne mystery for Berkley Prime Crime will be out July 2010. 
     Be sure to watch for the new Lauren Vancouver, Pet Rescuer series! The first book BEAGLE MANIA will be out in March 2011. It's a spin-off from the Kendra series, and Lauren is introduced in HOWL DEADLY.
     ALASKAN WOLF, another in the Alpha Force series from Harlequin Nocturne, will be published in December 2010.
Linda O. Johnston
http://www.lindaojohnston.com/
http://www.killerhobbies.blogspot.com/
3
0
Read more
February 8, 2010

by

Linda O. Johnston

in category

Pets, Romance & Lots of Suspense by Linda O. Johnston

tagged as

Linda O. Johnston, Nocturne Bites, Pet-Sitter Mysteries, Silhouette Nocturne
Blog = web log. That's elementary. And what's a log? It can be a kind of journal. That's how I look at it, anyway.
I always enjoy blogging on A Slice of Orange. As you may know, I also blog weekly at killerhobbies.blogspot.com. I was invited to join a long time ago because Killer Hobbies' focus is on hobbies that are featured in mysteries. My Kendra Ballantyne, Pet-Sitter mystery series features pets, and I've always maintained that pets are family, not hobbies. Even so, I usually try to mention pet-related things on my posts there. Of course I love writing about pets, so that works out well.
Other times, I focus largely on writing, its fun and frustrations. Since writing is so important to me, that's fun, too. It's often when I get the most comments. Same appears to go for my blog sisters, too.
This week, I blogged about writing short stories, and I was pleased at the number of comments that came up early in the day–faster than usual. Not a huge amount, as some other blog sites get, but a bunch just the same.
So… since A Slice of Orange is the blog of OCC, it's natural for me to focus on writing here, at least more than pets. I love writing. I do it all the time, and I'm always looking for more! I can always talk about what I'm working on, and that's a lot of what I've done here so far. But I'd still love to hear more about what YOU are interested in hearing. Feel free to ask me to reveal secrets. If I know the answers, I'll have to gauge whether I want to make them public, but you'll never know how much I'll give up till you ask.
By the way, I'm going to be giving a class soon at the new online school, Story Stew University. It'll be on Blending Romance and Suspense. Check it out, along with other classes at: storystewuniversity.com
Linda O. Johnston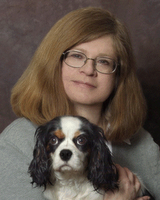 Linda O. Johnston is the author of 15 romance novels and several novellas, including a current Nocturne Bites, with 2 more Nocturnes upcoming. She also writes the Kendra Ballantyne, Pet-Sitter mystery series from Berkley Prime Crime. HOWL DEADLY, the newest title in the series has just been released.
2
0
Read more